:::: Duralift ::::
This information is directly sourced from Dur-a-Lift.com.com
Dur-A-Lift, Inc. manufactures telescoping and articulating aerial personnel and material handling lifts for many needs. Dur-A-Lift's experience, quality & dependability shows in every product that leaves the factory. We pride ourselves on unsurpassed service both during, and after the sale.
At Dur-A-Lift we base our success on our customer's successes. By fostering mutually beneficial relationships with our customers on a personal level, we gain the ability to truly understand their needs. Only when we truly understand what our customers need to be successful can we succeed in the marketplace.
The Dur-A-Lift division of Diversified Technologies was incorporated in 1988. Since that time many improvements have been made to our equipment. We have also added several new models to our expanding product line. The latest of these includes the Dur-A-Lift Material Handler. With our wealth of experience, broad knowledge base, and a skilled labor force you can be sure that the products you receive will be ready to perform, and with a history such as ours you shouldn't expect anything less than top quality products.
Contact Info:
Dur-A-Lift, Inc.
A Division of Diversified Technologies, Inc.
2002 Kingbird Ave.
PO Box 31
George, IA 51237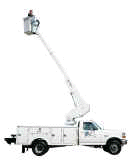 Dur-A-Lift Telescopic Aerial Lifts: (Cab/Chassis Mounted)
| | |
| --- | --- |
| | Working heights of 30' to 39' |
| | Side reach of 23' to 26' |
| | Stress/Strain Gauge Tested |
---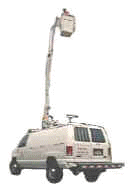 Dur-A-Lift Telescopic Aerial Lifts (Van Mounted)
| | |
| --- | --- |
| | Working heights of 31' to 34' |
| | Side Reach of 23' to 26' |
| | Stress/Strain Gauge Tested |
---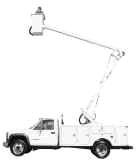 Dur-A-Lift Articulated Aerial Lifts
| | |
| --- | --- |
| | With working heights of 32' to 41' |
| | Side Reach of 20' to 31' |
| | Stress/Strain Gauge Tested |
---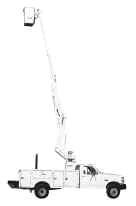 Dur-A-Lift Telescopic Articulating Aerial Lifts
| | |
| --- | --- |
| | Working Heights of 36' to 45' |
| | Side Reach of up to 33' 6" |
| | Two man bucket applications available |
| | Stress/Strain Gauge Tested |
---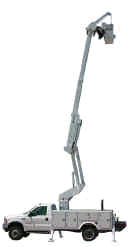 Dur-A-Lift Material Handling Articulating Aerial Lifts
| | |
| --- | --- |
| | Telescopic Aerial Lifts with working heights of 41' to 45' |
| | Side reach of up to 33' 6" |
| | Up to 1000 lbs. lifting capacity |
| | 400# basket capacity |
| | Stress/Strain Gauge Tested |
>